Sword or Saber?
Swords or Sabers what's the difference?
Dictionaries define a sword as a weapon having a long usually a sharp-pointed blade often straight having one or two cutting edges,
that are designed for thrusting or cutting your enemy. Used today mainly with formal military dress and formal occasions such as a Change of Command and weddings. These are only Ceremonial Swords they can not used at all for combat.
Saber or Saber? (French)
The Calvary Officer Saber is a somewhat curved blade, it was used for cutting and thrusting. The Saber today however, is usually only worn by cavalry officers, but can be worn by all officers except those who do not bear arms. (Chaplains). These are only Ceremonial Sabers they can not used at all for combat.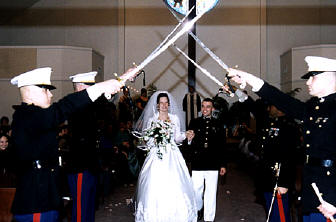 Yes we can engrave your swords for a modest fee, click here to find out more!
Website of the History of US Military Swords click here!
How to Size a Military Sword or Saber.
The length of the blade will be to place the tip of the blade at approximately ear level when an individual carries the sword at the Carry Sword position which is the sword drawn, arm at side, and blade in a vertical position pointing skyward. The blade length is a function of the individuals arm length, the individuals neck length, and how the person carries the sword, and even the type of sword.
Is blade length important?
For the person intending to mount the sword or saber on a wall and having no intention of using it at the draw sword, present arms, parade rest, ... etc.), sword length is not critical. A 30-inch sword length is the most common length, generally fitting those people between 57 to 61 in height.
For those intending to use it at manual of arms (draw sword) , blade length is important. A sword that is too long not only looks out of place and non-uniform, but you also risk knocking off your headwear or increases head movement when you are going to the Carry Sword position.
What length do I need?
The best way to size a sword is to hold another sword in the Carry Sword position to see how the length fits.
If one does not have another sword on hand, measuring for the fit is possible. Stand at a position of attention with your arm extended down at your side and your fingers extended down.
Measure from your ear to the V between your index finger and your thumb. Using this measurement, the correct sword length depends on the type of piece:

Army officer saber, Navy officer sword, Coast Guard officer sword, and USMC NCO sword above measurement minus 3 inches.
Army NCO sword, USMC officer sword, Air Force sword, and academy swords (Air Force Academy, West Point, or Army Academy) above measurement minus 2 inches.

We recommend generally rounding down if necessary to order the nearest available blade length. For example, should you measure for a 31-inch blade, we would recommend a 30-inch blade; however, should you measure for a 31-1/2-inch blade, a 32-inch blade would likely be acceptable.
What is the Star of David on the swords?
The answer to the Star of David on the sword or saber is that it is not the Star of David. It is the Star of Damascus the symbol of world renowned steel and sword craftsmen. These craftsmen used two triangles joined together as a sign of their sword making guild which became know as the Star of Damascus. This symbol means the sword was fashioned with Damascus steel and over 1,000 years of craftsmanship. I would hope that the true story should come out on Paul Harvey's "And now for the rest of the Story" segments.